DJ Dome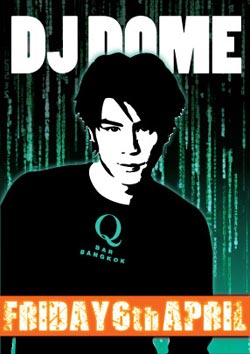 One of Thailand's best techno-dance artists started his career not in music but as a commercial mode. Pakorn Lum, also known as Dome, established himself as a popular commercial model, being visible in tv and print media from the tender age of six. It wasn't long before talent agencies came knocking and 1996 saw the release of Dome's self-titled first album that took Thailand by storm, selling over one million copies. It also served as an introduction to the high-energy techno-dance music Dome would soon be known for.
As a testament to his success and talent, he was part of two successful compilation albums, The Next and X-Venture, which again sold well, securing Dome and the other artists' hold on Thai music's pop dance market. Now five solo albums deep, Dome has moved on and formed a new pop rock band called 'Nologo'.
Not to be overlooked though, are Dome's skills on the turntables. An accomplished DJ, Dome has honed his house/techno sound and has been pushing Bangkok's musical boundaries for years now.
Don't miss this rare opportunity to catch Dome live at Q Bar!
For more info visit:
www.myspace.com/4nologo
www.moremusic.co.th/nologo/index.html

700 Baht all entrance includes 2 complimentary drinks (400 Baht value)
Q Bar Bangkok, #34 Sukhumvit Soi 11 Klongtoey, Bangkok 10110 THAILAND Tel: ++(662)252-3274, Fax: ++(662)252-5366