DJ E.A.S.E. at Q Bar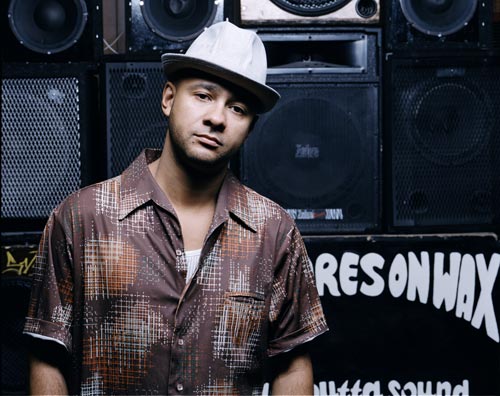 For Nightmares On Wax, soul was always a latent force. It was just that it was buried within a bleeping MIDI interface. But there comes a time when raw energies like this can no longer be smothered by technological trickery. They reach eruption point. Eventually after a four year hiatus, NOW's soul blasted through their synthetic sediment.
On their second album Smoker's Delight released in 1995, Leeds-based Waxer George Evelyn (aka EASE - 'Experimental Sample Expert') makes no apologies about his soul background. He later became mesmerized by the first wave of hip hop tracks like Rappers Delight and Buffalo Gals. In between co-running The Headz Club in Leeds, George was amassing samples. This sound library was recorded onto two sets of tapes: the Poverty tapes, (named after his own label) which contained finished tracks and EASE tapes that featured prototype ideas. George remarks, "I just built the tracks around these ideas that I've had for the last four years. The only thing that changed was bringing in live musicians and editing."
What culminated from NOW's personal 'Ultimate Breaks and Beats' series was the slo'mo, soulistic long player Smoker's Delight. Each track nonchalantly sojourns down crisp Philly Soul production, pulsating ho-down medleys, heavy Barry White pant tones, and nerve shivering chord shimmers found in all the classic soul. This development annihilates the fallacy that NOW are first and foremost a techno group.
Producing the genuine article is the prime motivation behind Nightmares' music. That's why is can't be classed as trip hop, dope beats, or be included with any of those fakers regurgitating and abusing classics. It's all about staying true, but taking the sounds of soul innovators to the new sound plateaux. George has a realistic outlook about the way his music is developing.
"Today's music is inspired by whatever has gone on before. That's what fascinates me. Soul music is the earliest form of hip hop. That's why I want to create it. It might seem like recreating what was done in the past, but what I want to do is merge soul and hip hop together. That's why I'll bring in the live aspect of what happened back then into current hip hop trends. That's the angle I'm arriving at."
This is the reasoning behind Keep On, NOW's collaboration with rap royalty De La Soul and the album Carboot Soul, which commemorates the time George would hunt for dusty 12"s and albums in car boot sales. It's another indication that NOW's true sound was there from the beginning. All they've done is come full circle - 360.
For More info visit
www.nightmaresonwax.co.uk
www.myspace.com/nightmaresonwax
600 Baht all entrance includes 2 complimentary drinks (400 Baht value)
Q Bar Bangkok, #34 Sukhumvit Soi 11 Klongtoey, Bangkok 10110 THAILAND Tel: ++(662)252-3274, Fax: ++(662)252-5366