Paolo Mojo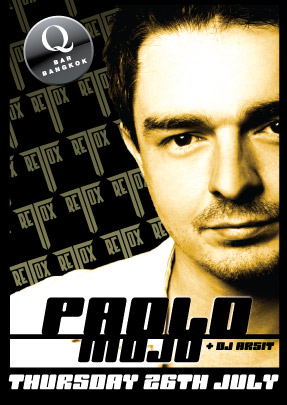 Paolo Mojo's sound might be difficult to pin down, but this broad, innovative approach to his craft is making him a name on everyone's lips in 2004. His style incorporates elements of house, funk, techno, breaks, electro, disco and acid. I've never understood this 'genre' bollocks! he says. "To me the best DJs always select the best bits from a wide range of sounds and put them together in a way that just makes sense to people."
It's certainly making sense to lots of people at the moment. Already well established for his tweaked out sets with the likes of tyrant and Sasha at fabric, and a well thumbed global passport, he's really come to the fore this year thanks to a succession of well received productions on labels such as Alternative Route, Big Love and Sabotage. - and one of the best essential mix debuts ever.
Radio One, Mixmag, DJ Magazine and IDJ have all been quick to cite him as one to watch this year -. Forthcoming remixes and projects with the likes of Brancaccio and Aisher, Alex Neri, Nic Fanciulli and Paul Woolford are set to raise his bar even higher.
He also runs Music Is Freedom and Orcmusic record labels, which have consistently attracted good reviews for the past 2 years. He contributes productions and remixes to both regularly, and sees them as the cornerstone of his music output
Paolo Mojo is one of the most talented new DJs; he's a man you'll be hearing a lot more from."- John Digweed
"I think (Paolo's) is one of the best demo cds I have heard for a long time."
Danny Tenaglia

Paolo Mojo – Renaissance Digital 01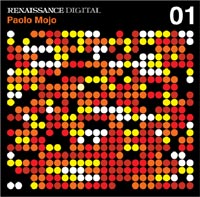 'Renaissance and Paolo Mojo join forces to launch a brand new digital album series - exclusive to i-tunes…'
Renaissance arguably kick-started the commercial compilation market with Sasha & John Digweed's 'The Mix Collection' back in 1994. Fast forward to 2007 - and they are breaking new ground again with Renaissance Digital 001. It's the very first compilation available exclusively on i-tunes - meeting all i-tunes stringent licensing criteria, and being the equal (and then some in our opinion…) of its physical peers.

Paolo Mojo is the projects launch artist. He comments:
"In a few years all compilations will be done this way. The only disadvantages of a physical cd are distribution and the time it can take to arrive. A comp on i-tunes solves both these issues."
He continues:
"I was surprised no one had done this yet. Making a mix compilation exclusively for the most widely used and highly visible global music store seems obvious. But it's all credit to Renaissance for being the first to do it. And for me as an artist.. the combination of Renaissance and i-tunes was a very attractive one. I'm proud to be launching what should be an innovative new series." And we are glad he is too! Paolo has created an intricate 80-minute mix that demonstrates why he's currently regarded as one of the most exciting young DJs in the world. It takes in the best dance currently has to offer from the specially crafted intro of his own production 'Paris', via a German influenced first-half that includes Sebo K, Fuckponydelic and Repeat Repeat, through to a rousing finale - featuring an incredible mash-up of Blue Foundation with Loco Dice's 'Seeing Thru Shadows' and Paolo's collaboration with man of the moment Jim Rivers. And rounding things off in fitting style, Paolo's friend and collaborator Eric Prydz' justly hyped 'Iron Man.'
All in all, a very special mix that sets a high standard for this exciting new digital series from Renaissance…
For more info visit:
www.paolomojo.com
800 Baht all entrance includes 2 complimentary drinks (400 Baht value)
Q Bar Bangkok, #34 Sukhumvit Soi 11 Klongtoey, Bangkok 10110 THAILAND Tel: ++(662)252-3274, Fax: ++(662)252-5366