The Return of DJ SUV at Q Bar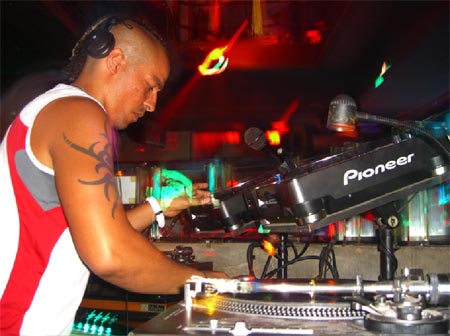 Due to unforeseen circumstances DJ SUV had been postponed on Jan 11 but Q bar is happy to announce that on WEDNESDAY Jan 31st , DJ SUV will help us launch 'Block Party : Bass Edition,' our new monthly drum and bass party. Already a musical phenomena around the world, Drum and Bass has taken Bangkok by storm in the last several months and as usual, Q Bar has led the way by bringing in the finest talent the world has to offer. Already, stars and legends such as LTJ Bukem, DJ Marky, TC-1, and Marcus Intalex have graced the Q Bar decks.
For our first installment of 'BLOCK PARTY" One of the most popular DJ's of Q Bar's 2006 lineup is back! DJ SUV a crucial member of the respected Full Cycle and Reprazent stables, Suv has undoubtedly contributed his fair share to the development of Drum n Bass and definitely to the sound of Bristol. A member of the seminal 1989 group Fresh Four who burst onto the scene with 'Wishing On A Star', Suv has continued to carve a musical journey both as a solo producer and part of larger conglomerates with Roni Size, Krust and Die always with the intent to break new ground.
Having listened to everything from Bob Marley to David Bowie growing up in the UK, Suv brings a truly urbane, open-minded sense to his musical productions. Never afraid to look into the past and roots seldom explored, Suv's Desert Rose EP kicked up a storm with its release. Borrowing influences from Latin, Brazilian, Hindu and Moroccan grooves, the EP was canned by everyone from the likes of Grooverider and Fabio to eclectic leftfield DJs like Gilles Peterson and John Peel, proving that good Drum n Bass can appeal to both the serious headz as well as anyone who appreciates good music. Mixing up these Asian and Flamenco-inspired themes with his trademark Bristol dubby sounds has definitely given Suv a new dimension. that saw him follow up the EP with "Follow The Sun". Like its precursor, the EP will delve into unchartered territory in terms of fresh rhythms.
On a more dancefloor-orientated front, Suv has been churning out a number of tracks that as always have made people sit up and pay attention. His single, Do You Remember Me, a release employing the vocal talents of New Zealand's MC Tali, has been causing some serious damage on dance floors worldwide up to this very day.
Suv is no newcomer to the scene there either- tearing it up with Krust & the Reprazent crew as well as solo performances, Suv will be promoting his latest independent label "Playside" as well as coming heavily armed with the freshest cuts from the labels he represents including Full Cycle and V Recordings as well as a host of other tunes not only wrecking the clubs in UK and around the world but also those that push the envelope in opening new doors and establishing new foundations for the sound of Drum n Bass.
Come join us on the last Wednesday of every month as we feature the finest in international and local talent alongside DJ's Octo and Sum-1
For More info visit
www.djsuv.net
www.myspace.com/suvmusic
600 Baht all entrance includes 2 complimentary drinks (400 Baht value)
Q Bar Bangkok, #34 Sukhumvit Soi 11 Klongtoey, Bangkok 10110 THAILAND Tel: ++(662)252-3274, Fax: ++(662)252-5366