Wei-Shen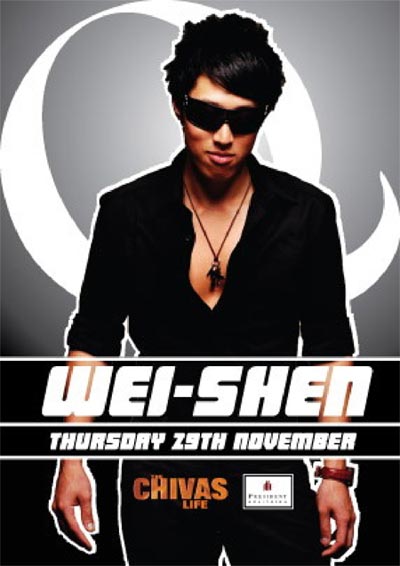 Wei-Shen is one of Australia's most respected house DJs who is fast developing a cult following and seducing crowds throughout the world. On top of having showcased his talents at packed Full Moon parties on the frenetic beaches of Ko-Pha-Ngan and exclusive underground parties in Asia, he has graced the decks at some of the world's most renowned clubbing venues. To name a few, Zouk (Kuala Lumpur), Fabrique (Moscow), Turnmills (London), Club Blush (Dubai), Paradise Club (Mykanos), Attica (Singapore), Dragon-i (Hong Kong), Q Bar (Bangkok), The Circle (Seoul), Mint Club (Shanghai), La Fabrique (Tokyo), Trinity Rooms (Dublin), Club Banana (Beijing) and Mint Bar (Koh Samui).
Back in his beloved Australia, Wei-Shen's stature continues to blossom as he holds residencies at some of Australia's finest clubbing establishments including Famous @ Queensbridge (being Australia's biggest club night), Kink (Sydney) (interstate resident) amongst others. He also regularly commands the dance floors of some of our most notorious events such as Summadayze, Good Vibrations, Two Tribes, Pacha, Gods Kitchen, We Love, Future Music Festival and Ministry of Sound. As an indication of his widespread popularity, he was impressively crowned as one of Australia's leading house DJs in last year's national In The Mix DJ poll. Wei-Shen also often hosts guest shows on the dedicated dance radio station Kiss FM, and broadcasts a fortnightly radio show on www.ssradiouk.com, www.pulseradio.net, www.fullhouseradio.com, www.dfr.fm and www.tokyma.fm each of which are regarded as Europe's and Australasia's premier house music online radio stations with a combined audience in the millions.
Wei-Shen is renowned for his interactive and cheeky style, never failing to deliver an infectious performance. Resisting the popular trends towards indie and electronica, Wei-Shen plays his unique brand of belearic house music as his sets infuse afrocentric percussion, Latin rhythms, uplifting vocals, a dash of electro, dirty disco and a huge dose of funk. This must be recipe for success as he has shared the bill with international giants including Frankie Knuckles, Boris Dlugosh, Roger Sanchez, Bob Sinclar, Boy George, DJ Falcon, David Guetta, Joachim Garraud, DJ Gregory, DJ Disciple, Lee Cabrera, Full Intention, Sandy Rivera, Sebastien Leger, Mark Knight, Lenny Fontana, DJ Spen, Steve Lawler and Mark Farina amongst many others. On top of having DJed at various Melbourne Fashion Week and Spring Racing Carnival events since 2002, he has played at some ultra-sexy private parties including for Paris Hilton, Jackie Chan and Elite Model Management and for fashion houses such as Karl Langerfeld, Gucci, Agnis B and Hugo Boss. And late last year he was invited to DJ at the official 2006 Commonwealth Games after-parties.
Wei-Shen has also successfully added music production to his repertoire. Joined by long time friend Maarcos, they had instant success with their first release being a remix of Inaya Day's "Nasty Girl" (Vinyl Pusher Records) which landed at #1 on the Australian Aria Club Charts and received international acclaim. With the inclusion of a third member Atridge, these boys now produce under the moniker "Those Usual Suspects" and recently remixed The Similou "All This Love" for Ministry of Sound which sat at #1 of the Australian Club Charts for 5 weeks running and was included in Ministry of Sound's "Housexy" 2006 Compilation). Keep your eyes peeled for their solo releases, their first being a balearic house anthem with Abigail Bailey on vocals which has been signed to Ministry of Sound, and "Dakka" which has been signed to Bob Sinclar's Africanism/Yellow Productions (and has received massive support from Bob Sinclar, Martin Solveig, Roger Sanchez, David Guetta, Sandy Rivera and Defected head honcho Simon Dunmore amongst many others, and was featured in July 2007 on Pete Tong's BBC Radio 1) both of which are due for release shortly in 2007. They have also just finished a cheeky yet inspiring remix of Kings of Tomorrow "Finally", and 2 other solo releases - "Two" which has been signed to French house label SSOH and "Shadow", a balearic house anthem with Abigail Bailey on vocals, which has been signed to Ministry of Sound, both of which are due for release shortly in 2007. They have also just finished massive big-room remixes of TV Rock (featuring Abigail Bailey) "Lifting Me Up" and Mark James' "Come With Me". Wei-Shen was also commissioned by Ministry of Sound to mix the next Housexy compilation which is due for release in September 2007.
For more info visit:
http://www.myspace.com/weishen

500 Baht includes 2 complimentary drinks
Q Bar Bangkok, #34 Sukhumvit Soi 11 Klongtoey, Bangkok 10110 THAILAND Tel: ++(662)252-3274, Fax: ++(662)252-5366