August 30-31, 2007 at Glow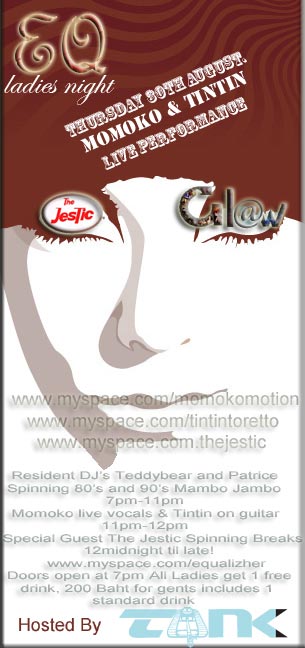 Thursday 30 August.
Austrian DJ JESTIC live at GLOW for his first set in Thailand. BREAKS. CHECK OUT http://www.myspace.com/thejestic.
On top of that we have LIVE ON STAGE miss MOMOKO. Momoko is an artist and singer songwriter. She was the original member of Futon as singer/songwriter/keyboardist since 2003. She left the band in 2006 after the Futon's 3rd album recording.
Currently, She is making her first solo album.
That night as well we have LIVE Female Guitarist TINTIN TORETTO.
So what else can you wish for. 3 dj,s from USA, UK and AUSTRIA, LIVE CONCERT with the new Songs of her first upcoming solo album MOMOKO and live Guitar set by TINTIN TORETTO. Oh yes. Free for ladies including 1 drink. 200 baht for the boys including 1 drink.
Thursdays at GLOW. The best nights with the best live acts. EQUALIZHER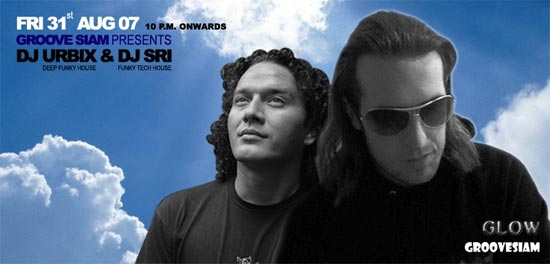 Friday 31 August.
GROOVESIAM and GLOW present 2 party animals pure sang. DJ SRI and DJ URBIX with DEEP and FUNKY TECH HOUSE

Glow • 96/4-5 Sukhumvit Soi 23, Bangkok 10110 • 0-2261-3007, 0-2261-4446