Club Soma Present…Second Coming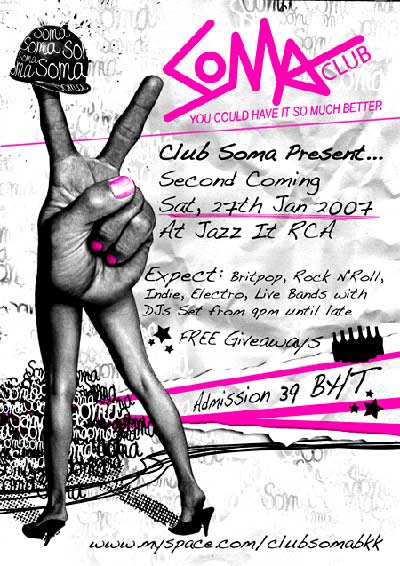 Come to see what the world is waiting for…
You threw up your arms to the foot stomping indie, did the nostalgic pogo to the britpop and danced like a robot from 1984 to the electro.
We hoped you loved it because ladies and gentlemen we are back!
It is time to start thinking about those dance moves and recalling the words to those long lost classic tunes as Soma is making a return. It hopefully goes without saying that you all enjoyed the last one. Your feedback has been second to none, it was a pleasure and a sheer privilege to have you all there, you made it what it was. So put on those dancing shoes the Soma faithful and get ready to cut that rug. We got some serious shimmying, shaking, drinking and aving' it to do.

9 PM Til Late
LIVE BANDS with DJs Set Playing Super Cool Britpop/Indie/Electro/Pop Tunes
Entrance Fee 39 Baht
More Info :
http://myspace.com/clubsomabkk
JAZZIT "the RCA pub'
21/39-40 Royal City Ave., (R.C.A.) Block C, Huay Kwang, Bangkok 10320, THAILAND
Telephone Number: 02-2031053 Website: www.RCApub.com EMAIL: rcapub@gmail.com