The Friday Night Fix @ Q Bar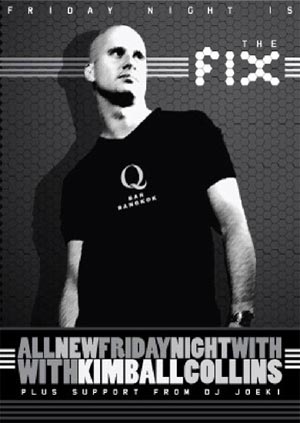 Get your weekend Fix every Friday at Q Bar with the best of both sides. Featuring resident DJ's Kimball Collins (Orlando, USA) and Joeki (Bangkok, Thailand)
Over the years, Q Bar has always been known for cutting edge music, be it from our acclaimed residents or our world-renowned guests. On November 2nd, we will be launching our brand new Friday night shakedown, The Friday Night Fix, with our new resident DJ, American house legend, Kimball Collins. Respected across the globe as one of the premier disc jocks, Kimball was highly influential in the rave explosion in America during the late 80's and early 90's and continues to push boundaries on the dancefloor with his electro infused house sounds.
As one of America's most respected Upfront Electronic Music DJ's, Kimball Collins specializes in Electro and Progessive House. Over the past 20 years, Kimball Collins has transcended from Florida's local hero, as resident of cornerstone venue Aahz, in Orlando, to revered world-class artist, jet-setting throughout Europe, Asia, South America, and the entire North American Continent. As one of the original global Electronic Music DJ's, Kimball Collins was one of the first Americans to cross the Atlantic and play at the prestigious Ministry of Sound, Zap, and Renaissance clubs in the United Kingdom. His past residencies at Stateside mega-clubs is a who's who list of the premier nightlife establishments across America, including the likes of Crobar, Motor, Spundae, Utopia, Firestone, and many more. Having co-headlined major events with the likes of Sasha, John Digweed, Paul Oakenfold, Sander Kleinenberg, Deep Dish, Paul Van Dyk, Tiesto, Armin Van Buren, Brian Transeau (BT), and Felix Da Housecat, Kimball has clearly established himself as one of the world's most recognized and respected talents.
Kimball will be joining our longest standing resident DJ Joeki. As one of Bangkok's original house heroes, DJ Joeki has been lighting up dancefloors throughout SE Asia for the better part if this decade.
Once again, Q Bar has raised the musical bar in Bangkok by bringing the best of the west with the finest from the east. Friday nights will never be the same again.
For more info visit:
http://www.djkimballcollins.com
http://www.myspace.com/kimballcollins
http://www.myspace.com/dj_joeki
700 Baht includes 2 complimentary drinks
Q Bar Bangkok, #34 Sukhumvit Soi 11 Klongtoey, Bangkok 10110 THAILAND Tel: ++(662)252-3274, Fax: ++(662)252-5366