Vegas Night at Q Bar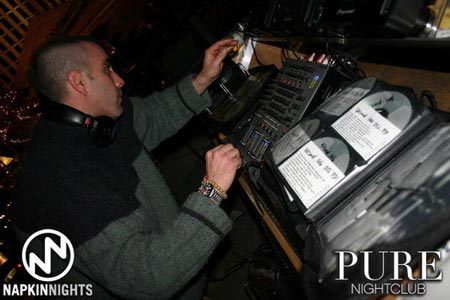 Join us on Thursday January 25th as The City of Sin invades The City of Angels. Resident DJ Frank Richards of Las Vegas' premiere nightspot 'Pure of Ceasar's Palace,' will once again be joining Q Bar residents Billy V and Joeki for an event not to be missed. For one night only, Q Bar will transform itself into the Vegas strip, complete with all the spectacles Vegas has to offer. Get married in the Q Wedding Chapel. Win bottles of the finest liquors available in our games of chance. We will even have a very special performance by the King himself! Elvis, will be on hand performing choice selections from his catalog of timeless classics.
With all this going on, one would think it would be easy to forget about the music. Rest assured, we have brought Las Vegas' most highly regarded DJ in for the very special night. Known throughout the United States for his brand of psychedelic, chugging house, Frank Richards has been holding court on the Pure terrace for 2 years now and in that time has hosted the biggest names in dance music. From Derrick Carter to Jazzy Jeff, Richards has held his own with the elite djs of the world and then some. With over 15 years of experience in many of Las Vegas' hottest nightspots, Frank Richards has been the foundation of the Vegas house music scene and continues to guide its path into the future.
For one night only, experience all the decadence and spectacle that is Las Vegas. Only at Q Bar!
For more info visit
www.djfrankrichards.com
www.myspace.com/frankrichards
500 Baht. All entrance includes 2 complimentary drinks (400 Baht value)
Q Bar Bangkok, #34 Sukhumvit Soi 11 Klongtoey, Bangkok 10110 THAILAND Tel: ++(662)252-3274, Fax: ++(662)252-5366