The Return of Kutmasta Kurt at Q Bar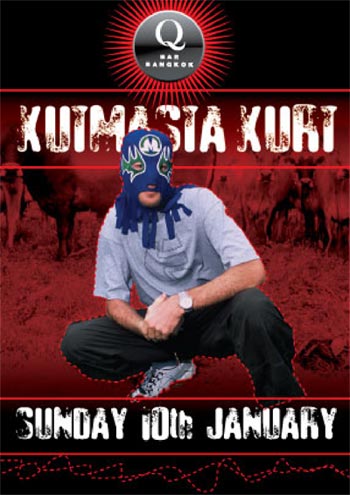 One of the more underrated producers and DJs in the West Coast underground, KutMasta Kurt initially made his name working with Kool Keith, of the legendary
Ultramagnetic MC's, in 1994 on Keith's landmark Dr. Octagon album. Since Dr. Octagon, Kurt has helmed 4 other Kool Keith albums to critical acclaim. In addition, high profile remixes for the likes of The Beastie Boys and Linkin Park as well as a string of underground hits for Dilated Peoples, Blackalicious, and Souls of Mischief have made Kurt the go to man in the fickle underground scene.
"Hip Hop's current state is mass consumerism. Everyone eats at Mc Donald's. It's like buying a Jay Z record. But real taste is found in finer restaurants, which is like buying a Kutmasta Kurt album. Tired of the stale hamburgers in Rap, step up to a fillet mignon!" – KMK
Kurt's production credits include Dilated People's groundbreaking hit "Work the Angles", and songs for Planet Asia, Rasco and Chino XL. He's also has Remixes released by the Beastie Boys, Blackalicious, Del the Funky Homosapien, Linkin Park, Luscious Jackson, and DJ Spooky to name a few. However, this producer may be best known for his work on Kool Keith's "Dr. Octagon", "Sex Style", "DR. Dooom", "Black Elvis" And "Matthew" albums. However if Kurt's stock was measured by the number of remix request he gets it would make just about any fortune 500 Co. blush. Kurt's resume starts back in 1990 with Tim Dogs" Fuck Compton" remix. The Funky Redneck AKA Kut Masta Kurt along with Kool-Keith and there production team known as the Diesel Truckers is also responsible for one of Rap Music's most successful independent releases of 1999,"First Come, First Served" by Keith's alias DR. Dooom.
For his debut...Presents Masters of Illusion, Kurt doesn't stray far for lyrical reinforcement as he plucks dysfunctional associates Kool-Keith and bay area rhyme bomber Motion Man to let you all know. ....Recently in Japan Kurt's remix of Dilated Peoples "Work the Angles" was voted top remix of 1999. With Kurt starting his own label (Threshold Recordings) his latest album "Redneck Games" pushing the boundaries of hip-hop includeing rarities, b-sides and otherwise previously unavailable tracks with Beastie Boys, Dilated Peoples, Mos Def, Linkin Park, Del tha Funkee Homosapean, Mr Lif, Planet Asia, Blackalicious, Grand Agent, PMD (of EPMD) and Kool Keith to name a few.
For more info and music visit:
http://www.threshrecs.com
http://www.myspace.com/kutmastakurt
For videos:
http://www.youtube.com/ThresholdRecordings
600 Baht includes 2 complimentary drinks
Q Bar Bangkok, #34 Sukhumvit Soi 11 Klongtoey, Bangkok 10110 THAILAND Tel: ++(662)252-3274, Fax: ++(662)252-5366