Glow Bangkok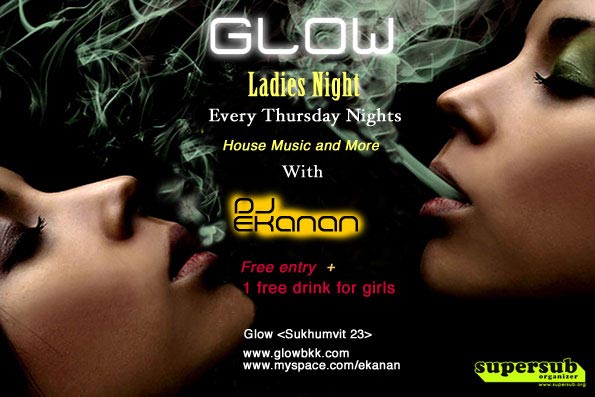 Monday

Free Style House

Tuesday

Funky Progressive House

Wednesday

Free Bar


Thursday

Ladies Night
Ladies: Free Entry and 1 free drink

Friday

Guest DJs

Saturday

Guest DJs

Sunday

House Music & More
A new lounge bar/club where the focus is on comfortable surroundings, high quality (the best!!??) drinks, moderate prices, good and friendly service, best bartenders, inovative lighting, relaxing music with a good sound system etc.

Basically we are creating a bar where we can feel comfortable and where we like to meet our friends.

The concept of lounge bars is present in Bangkok but mainly at hotels. Examples in our opinion are Hu'u and Syn at Nai Lert Hotel. Those bars are setting a certain standard for this concept. We feel that there is space for a 'stand alone' chill out experience in Bangkok.

Where can you invite your business associates for a drink after your afternoon meeting and relax with a good glass wine and some Tapas? Again, mainly hotel bars.... Where can you enter a nice club/bar at 8 PM to meet some friends before having dinner? Again, mainly at hotels or less desirable venues. Where do you meet friends before going clubbing and get in the right mood? Where can you start the evening with a bite and a glass of wine and end in having a good party atmosphere? Or, where can you start patying at 6 PM until 1AM? Etc...

The answer is... GLOW!!!!!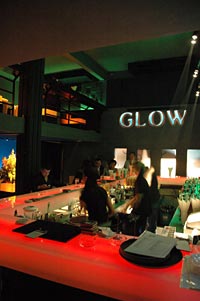 OK, that is what we want to do..
We have created an intimate and classy looking interior. Focussing on quality and comfort. Custom made bar stools, long sofas, sofa beds etc. All tables will be lighted from below through acrylic for a golden glow.
We want to play nice chill out sounds, some deep house, funky house, maybe some R'nB etc. When the vibe is right, party music comming. The bar/club can change colour as we like, it will be glowing either in yellow, red, green, purple or whatever we want.
Sound system should be good. We have heard the sytem set up and it was deafining but crisp. See how it sounds when it is actually installed!
The highlight will be the bar which will stretch over two floors and will be lighted by LED's. Also the complete bartop is from acrylic and will be lighted by build in LED's. Strong enough to dance on as well!!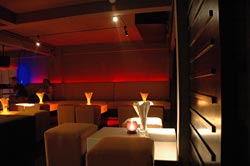 We will be offering a wide range of drinks and labels. From Absinth to Whisky! Do we not have your favourite brand, let us know and we will stock. Size of drinks, 50 ml, the biggest standard pouring measures in Bangkok.
House pours will most likely be JW red, Smirnoff, Tanquary, Captain Morgan etc. So, no 100 Pipers as other major clubs..! Also, the prices will be approx 25 % lower than the major clubs on lower Sukhumvit.
We will have quality house wines, both South African which will be poured in oversized glasses. Also another winelist with a few nice options. You want anything else? We get it for you, even on the night itself!
Every day we will serve a small selection of complimentary tapas between 6 and 8 PM. Small bar snacks will be available during the night.
Open 6 PM – 1 AM Daily
96/4-5 Sukhumvit Soi 23
Bangkok 10110
tel: 0-2261-3007