Gentlemens Club pricing structure
Most of the gentlemens clubs in Bangkok seem to follow a similar pricing structure. Hopefully, this will help explain your expensive night at these establishments.
Cover Charge – This normally ranges between 500~600 B, but may be as high as 1,800 B in some establishments. You will normally get one or two drinks. You can normally circumvent this by opening a bottle of whiskey, and if you have any remainder, a bottle card will be issued to you for another visit.
Lady drinks – This is used as a measure of time or some form of token for charging you the great bill. Whenever you get a nice pretty girl to sit and chat with you, you get charged a lady drink for every 45 minutes she is with you. In some places, depending on the girl, you get charged 2~3 drinks immediately, and then 1 lady drink for the next 45 minutes. Many establishments also charge 2~3 lady drinks for the mamasans company. The girl doesn't really get a drink yet, that's just for her time. If you require the company of the girl outside the establishment, you will most often be charged 10~15 lady drinks, depeding on the day of the week. The 15 lady drink is normally applied to weekends, usually from Friday to Sundays. Most establishments charge 350 B for every lady drink, and you normally get a 20% discount if you are member.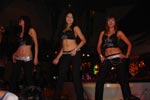 Cocktails – these drinks are regularly requested by the girl. These drinks can drain your wallet very quickly. They cost between 350B~700B, and in some places, the 20% member's discount may not apply.
Let's take an example:
Assuming you are a non-member, you enter a club at 10:30 PM, you sit down, get a beer, call for a girl, she sits with you until closing time (1 AM), and in that period you buy her 4 regular cocktails. You call for the bill, this is what you will most likely see. As you can see, a simple night, with just one girl will set you back over 4,000 B, and you will still go home alone. As a member, you would not have to pay for the cover charge, and you could be consuming your beer from your drink allocation, so your total damage would probably be (2,100 + 1,400) x 20% discount = 2,800 B.
| | | |
| --- | --- | --- |
| Cover charge (2 free beers) | 1 | 600 B |
| Lady drinks | 2 + 4 | 2,100 B |
| Cocktails | 4 | 1,400 B |
| Beers (3 beers) | 1 | 300 B |
| Total | | 4,400 B |