Bangkok Escorts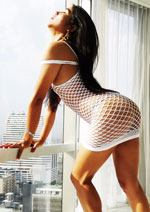 One way, to have a nice Bangkok girl keep you company is to hire an escort. Why would you get an escort in Bangkok when you could easily find a girl in a club or a bar? There are gogo bars in Nana Entertainment Plaza, Soi Cowboy or Patpong, where you pay the barfine for a young and pretty Thai girl of your choice, or even a ladyboy, depending on which bar you visit. Alternatively, you could also find freelancers in the various clubs or discos in town, who frequent these places in the late evenings. There's one good reason, convenience, put simply, you don't have to leave the comfort of your hotel room nor your apartment, you just simply point-and-click, make a call, and the girl will show up outside your door step. This way, you don't even need to get dressed to go out to the various place, buy lady drinks and waste your time in Bangkok's notorious traffic jams. And even after all that effort and time, you still may not find the girl of your liking. There are some of who may be just feeling lazy, so this really saves time. Also, if you happen to be one of those high profile people, you wouldn't want to be seen hunting for girls, then getting an escort would be the solution.
In Bangkok there are Escort agencies, independent escorts and ladyboy escorts, so many choices, what is your choice?
There are a plethora of escort agencies out here in Bangkok. Some have been around for quite a while, and there are also a lot of new ones. Their prices are pretty much the same, at about 5-6,000 B for the first two hours, but there are some who are charging more to seemingly differentiate themselves from the rest. Now, you can get the girls from the agencies, or you can get them from the Independent escorts, those who work on their own, and have their own websites. Their rates can vary from 3,000 B to 10,000 B for a couple of hours of their company.
You should be aware that most of the photos on these websites are heavily enhanced or PhotoShopped. So, be prepared for some differences between the photos and the actual person. Their intention is to smoothen out the blemishes, and in general to lighten the skin color of the girls. In some extreme cases, the girls may appear thinner too. Right now, there are probably two or three sites that mentions that their photos are not PhotoShopped at all.
Whatever your choice is, there are plenty to choose from. Enjoy your evening!