JAZZIT Nightclub - April / May 2007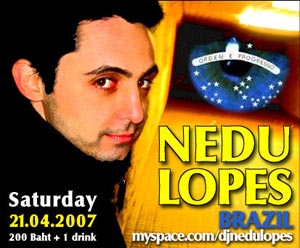 JAZZIT Nightclub
Nedu Lopez is coming... On his world tour,in Bangkok he will play at JAZZIT.. come to see the BRAZILIN Master of TURNBLISM!! COVER 200b include 1 drink
About NEDU LOPEZ http://www.myspace.com/djnedulopes

DJ SLACKEN 3 hours of best bangkok tecno trance
NO COVER = FREE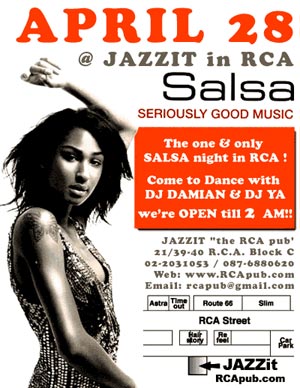 SALSA DANCING night with DJ DAMIAN & DJ YA
NO COVER CHARGE = FREE
MAY 2007
MAY 5 (Saturday): JAZZIT 1 Year ANNIVERSARY!!!
HAPPY BIRTHDAY JAZZIT !!!!!!! ALL STARS DJ who MADE JAZZIT IN CONSOLE for about 1 hour each:
SOMA TEAM (Indie ROCK)
DJ MATT (DRUM and BASE)
DJ MAGIC muffin with DJ Plan B (Back to Back)
DJ CELLO (ELECTRO)
NO COVER = FREE ENTRY!!!
JAZZIT "the RCA pub"
21/39-40 Royal City Ave., (R.C.A.) Block C, Huay Kwang, Bangkok 10320, THAILAND
Telephone Number: 02-2031053