Plump DJs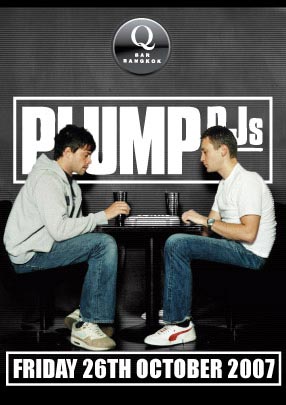 PLUMP — VERB, NOUN, ADJECTIVE — FATTEN, BUXOM, CHUBBY, PORTLY, AMPLE, COMPLETE.
Breakbeat was slumbering away peacefully before the Plump DJs gave it a loud wakeup call with their first release 'Electric Disco/Plumpy Chunks' in 1999. With thundering momentum, their critically acclaimed productions reformatted dancefloors and perceptions, and set new production standards. Some were scared silly, few fell back asleep, but many jumped up for a shower of Plump freshness. And an alarming universal consensus was formed. Everyone wanted a piece of the Plump pie, and fat was in.
Inspired by a top shelf girlie mag entitled Plumpers, Lee Rous and Andy Gardner met and the Plump DJs were born. It would be nice to say that before making music, the Plump DJs had glamorous jobs - but we can1t. Before the duo met Andy worked in a cardboard box factory and Lee was a waiter at a Berni Inn. The music started as a hobby and after a number of excursions and collaborations with the Freskanova camp, the two found their oats at the Finger Lickin' stable.
A global need for the bold attitude, squidgy sounds, and Behemoth basslines amplified by the Plumps pushed the duo into their Soho based Laboratoire Plump to manifest a large destiny. Jerk to inflate! Inflate it did, next vinyl.
'The Push/Remember My Name' on Finger Lickin', waxed the hairs off everyone's legs and the screams of delight led the lads into completing their feature album "A Plump Night Out" in 1999. The album sampler rocketed to No.1 on DJ magazine Breaks and Beats chart for three issues in a row.
Before Lee and Andy could smile for another photo shoot, remix opportunities were piled on the doorstep. Jumpin' and Pumpin' (with perhaps a bit of pimpin1) through the year of chronic concoctions the Plump DJs' spin of Stakker Humanoid's classic 'Humanoid' and a spate of other remixes for The Freestylers, DeeJay Punk Roc and Mint Royale ballooned their status. Perfecting a repertoire of coercive gruff sounds, the Plumps were in high demand.
Their remixes for the likes of BT and Orbital became the bubbles of oxygen that rose to the top of the ocean of global dance music. The Plump ship made waves, putting the excitable "Oh" back into H20. Historians, dance music critiques, and Soho restaurateurs chuckled with glee as Lee and Andy won the Galaxy loaded with dancefloor ammunition; launching Smartbombs and dropping laughing gas onto Funny Break terrain, replacing testosterone nu-skool with accessible sonic boom and arse wiggle.
ON THE UP
Lee and Andy were on the lips of every man and his mixer from London to Rio, whilst the two remained loyal to the underground movement. Judge Jules announced the Plumps mix of JDS' 'Nine Ways' as tune of the week. They went on to achieve Mixmag 'Breaks compilation of the year'; Pete Tong's Essential compilation album; album of the month in Wax and M8 and have been written about in literally every dance publication going.
Their Elastic Breaks covermount CD on Mixmag sold over 140,000 copies and was their biggest selling issue ever. In 2001 the boys achieved Pete Tong's Essential Tune with their remix of The Elektronauts' 'Bumper' on Lacerba. Temptation grew and the heat was so intense that 'Bumper' was nominated for 'Best Remix of 2001' at the annual Muzik awards. The Plumps were also nominated for 'Best Breakthrough DJ' and narrowly missed the shortlist for the Mercury Music Prize.
Not taking notice of the Diesel jeans that Lee lived in, Levi's used The Push in a commercial, which ran in Asia for over a year. As their popularity soared, the Plump wares provided background music for Grandstand, Ski Sunday and Sky Sports. By late 2001, Sony adopted 'Big Groovy Fucker' and Plumps mixes of BT's 'Smartbomb' onto PlayStation2's Wipeout Fusion. Finally, the much-talked about 'Big Groovy Fucker' was unleashed in March 2002.
… AND UP!
The formidable Fatboy Slim gave the Plumps 12" single 'TB Reality' a fat thumbs up. The flip 'Big Groovy Fucker' was Essential Breaks Tune in 7 magazine, 'Single of the month' in Muzik + Ministry, #1 in the DJ breaks and beats chart, #1 In Muzik Sweep, Cool Cuts #14, Buzz chart # 16, as well as appearing on numerous compilations and covermount CDs. The Plump productions are so rated that Phil Hartnoll called the label to say it was the best remix they've ever had! Subsequently they were been support DJs for both UK Orbital tours in 2001.
In July 2003, the Plump DJs released the breakbeat scene's most eagerly awaited record. A landmark - defining a sound and altering the course of a genre, "Eargasm" smashed the mold to take break-driven music the next level. An album that wears its heart on its sleeve it encapsulates everything that makes the Plump DJs tick. Pooling Lee and Andy's influence, "Eargasm" is a forthright album of maturity and diversity pulling no punches - from the jacking floor shakers honed by their residency at fabric, to the cerebral, emotive deviations from the breakbeat path. Featuring guest performances by Lou Robinson from Lamb, Gary Numan and Eddie Bo, who recently won a lifetime achievement for his contribution to jazz. This long player doesn't rely on collaborations, they simply fit the grand scheme.
"Eargasm" is one of those rare albums that sounds equally as good whether you're in a club, a car, a party or your lounge room. It's intricacy, deep textures and intensity packaged with a backbone of funk boasts a completely unique yet very accessible sound. Incorporating samples from the vaults of Kool And The Gang and Terence Trent D'Arby as well as writing songs with Lou Robinson and Gary Numan they have successfully taken the sonic revolution a step further.
2004 has been as busy as ever for the Plumps - between DJing all over the world they have managed to get in some studio time as well as organise their quarterly EARGASM night at London's Fabric. Another compilation album is rumoured to be in the pipeline for Spring 2005 so there is much more Plumpyness to look forward to! Welcome the Plump DJs into your life - they're gonna be around for a while.
PRAISE US!
Following the groundbreaking success of 'A Plump Night Out' and 2003's 'Eargasm' the Plump DJs are back with 70 minutes of the highest quality blistering breaks. With 11 original tracks and 2 remixes, Andy Gardner and Lee Rous have also called upon some of the scene's biggest names such as The Freestylers, Soul of Man, The Drumattic Twins, Lee Coombs and Italian sensation Madox to bolster this already heavyweight package. Opening with the hip-hop inspired 'A Plump Lesson', the album wastes little time warming up with a chunky remix of Lee Coombs' 'Shiver'; and on to the catchy 'Dr Dub' which samples the Thompson Twins' 'Doctor Doctor'. Alongside the already released and hammered singles 'Soul Vibrates' and 'Bullet Train', the award-winning Plump DJs deliver an album that also features the forthcoming 'Get Kinky' and 'Acid Hustle' singles.
'Get Kinky' is an all-out club player sampling Missy Elliot whilst 'Acid Hustle' takes a more electro stance; purring electronically underneath the beat until it slaps you around the face with a fresh, stripped-down drum and synth outro. 'The Rub Off' - a bassy, booty bouncer and 'Screwball' - an uplifting sun-drenched anthem – will both no doubt be getting heavy plays at the Plump DJs planned festival appearances this Summer and at their monthly residency at Fabric….as did their award-winning remix of the Freestylers' club floorfiller 'Push Up'.
Hailing from the world's leading breakbeat label, Finger Lickin records, the Plump DJs' new album also features label mates the Drumattic Twins and Soul of Man. The Drumattics' 'Twister' is acidic goodness whilst Soul of Man's 'Foxy Moron' has super tight beats and growling b-lines finished off with acappella vocals courtesy of Katherine Ellis.
Whilst the Plump DJs swept the board at this year's Breakspoll Awards winning gongs for Best Producers, Best Remix (Freestylers – "Push Up") and Best Single ("Soul Vibrates"), the proof will always be found in the pudding. And proof indeed for all of the above can be found here in extra large, full fat portions as the Plumps reaffirm their status as the biggest name in breaks and one of the hottest acts in dance music today.."
For more info visit:
www.plumpdjs.co.uk
http://www.myspace.com/plumpdjs
900 Baht includes 2 complimentary drinks (400 Baht value)
Q Bar Bangkok, #34 Sukhumvit Soi 11 Klongtoey, Bangkok 10110 THAILAND Tel: ++(662)252-3274, Fax: ++(662)252-5366