Pegasus Membership Information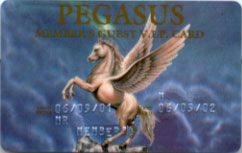 | | |
| --- | --- |
| Pegasus Member Club | |
| 112 Sukhumvit Soi 23, Soi Prasanmitr, Bangkok 10110 | 0-258-4262, 0-2259-1819 |
Non Members

Main Member

Entrance fee (with 2 drinks)

1,800B

Free
Lady's company (45 min)

900B

Lady's company

450B

Lady charge
Lady charge
PR
S/T

1,700B
1,500B

PR
S/T

1,200B
1,500B

Sideline
S/T

2,200B
2,000B

Sideline
S/T

1,700B
2,000B

Model
S/T

3,200B
3,000B

Model
S/T

2,200B
3,000B

Note: For L/T just double to S/T pricing.
S/T = Short Time; L/T = Long Time or whole night.
VIP Room
Small

4,000

Small

2,000

Medium

5,000

Medium

2,500

Large

6,000

Large**

3,000
| | | | |
| --- | --- | --- | --- |
| Membership option | Price | No. of whisky bottles | No. of PR girls |
| 1-year | 30,000 | 9 | 3 |
| 2-years | 50,000 | 15 | 15 |
| 3-years | 60,000 | 20 | 20 |
| | | | |
Notes:
You may convert a PR token to a Sideline in the ratio of 2 PR : 1 SL
or a Model in a ratio of 3 PR : 1 Model
You may also convert your bottles of whisky to PR tokens, in the ratio of 2 bottles : 3 PR Lady tokens
Each member is entitled to 2 supplementary cards which he can give to other friends to use the member's facilities. The supplementary member will only be entitled to 20% discount off the normal price, whilst the main member gets 50% discount.
The lady charges are only for getting the ladies out of the establishment only.
The S/T and L/T charges are paid directly to the girl that you are taking back.
** There is one large room which has an attached toilet complete with shower as well.
Tip: Another way to get the lady's company is to pay the lady charge, this means that you do not have to buy her a cocktail/drink and she can consume drinks from your bottle. This will reduce your bill in the long run. And of course, she will follow you back after that.